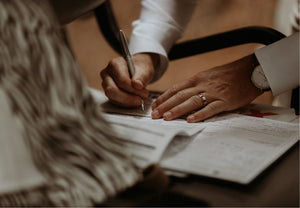 Legal Paperwork
Only Ceremony
1. Complete the Contract
Please complete the contract by clicking on the button below. Kindly notify me once you have submitted the contract at 289.251.2350. This is to ensure I have received it. 
An invoice will be sent to you within 48 hours of the contract submission, however, you spot is reserved once the contract is sent.
2. Marriage License
Your marriage licence is only valid for 90 days. About 4 months before your wedding day, set yourself a reminder to make an appointment at any City Hall in Ontario to obtain the marriage licence. The day of your appointment you will receive an envelope which you will provide me on the wedding day. Please do not edit the licence in any way. To the best of my knowledge, this process is still requesting that one partner apply in person with the ID of both partners.