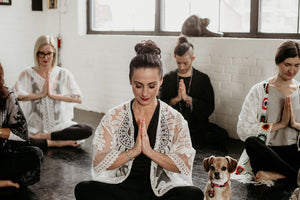 A life dedicated to
sharing love & light.
Francesca Bonta is a Holistic Health Practitioner & Wedding Officiant with more than 40 years of experience sharing her offerings around the globe. Her heartfelt desire is to empower individuals to navigate and celebrate life with more ease and grace, allowing more love, light and joy to flow through them.
Francesca's natural gifts, knowledge and intuition as well as her enthusiasm for celebrating love make of her an excellent Wedding Officiant. She designs personalized and handcrafted celestial ceremonies where the divine love you feel for your partner is enhanced and expressed at your ceremony.
★★★★★

From the minute I started talking to Francesca we both knew that she had to be our officiant! We had so much in common and talking to her felt like talking to an old friend. She was amazing at communicating with us before the wedding and continued to check in after the big day. On the wedding day she was so calming before the ceremony. What she wrote was so beautiful we were all in tears. She took every detail that we told her about our relationship and found a way to talk about it in our ceremony. It was absolutely perfect. We are so thankful that we found Francesca to officiate our wedding.
★★★★★

I have had a lot of massages/ energy work done on me before. I can say that this is the best one I have experienced. It's hard to describe what you feel during and after the session but one thing is for sure you feel amazing! I always feel balanced, re-charged, calm but full of energy. Francesca is AMAZING. I cannot say enough about her and her work. I also love, love, love her spices. They add so much flavor to the food. You can really taste the good energy that Francesca put even in her spices. I am so glad to have her in Toronto and I feel so lucky to have found someone like her to balance my chakras and energy. I cannot recommend her enough!
★★★★★

We knew from the first interaction with Francesca that she was the one to officiate our wedding. She was so attentive and really took the time to get to know us and our story. This made for the most lovely ceremony, which all our friends and family loved and complimented. In addition to officiating, she went above and beyond... No thanks to the current situation (the c word), we had a few last minute bumps in our original plan and Francesca literally saved the day by introducing us to some people who kindly helped us out. In the end, everything was perfect and we wouldn't have wanted it any other way. We are over the moon with how it all panned out and would choose Francesca over and over again.
★★★★★

I heard about Francesca through a good friend of mine and I am so glad that I made an appointment. I have gained so much insight, value, and clarity from my sessions with Francesca over the last few months. She does a wonderful job with creating a safe, supportive, and nurturing space that allows me to clear blocked energies. I always walk away from the sessions feeling lighter and more connected to myself. I also attended one of her Yoga Retreats which included yoga, meditation, exploring nature, and healthy eating. This was a relaxing and rejuvenating experience in which I felt energized, calm, and centered by the end of the retreat.I can only say the best about Francesca and her calm and beautiful presence. It is really difficult to put into words how much she assisted me in my healing journey. Highly recommended!
★★★★★

We couldn't have asked for a better match for us than Francesca to officiate our wedding! I knew instantly after reading about her that she was very friendly, caring, personable, and detail oriented. Through my phone conversations with her, I felt like we were making an instant connection. She took the time to get to know the details about my relationship so she could incorporate that into the wedding ceremony. She also added a beautiful touch in honouring the special family members we lost recently and to the ones who couldn't make it to our wedding. Thank you Francesca for being such a friendly figure in our wedding. Your passion for your work really shows and your enthusiasm at our wedding was so touching - especially when you saw our fur baby walk down the aisle as our ring bearer! We are so grateful for you and would recommend her to anyone! I hope our paths cross again in the future!
★★★★★

I started my healing sessions with Francesca after my concussion syndrome, that I've had five years now. It seems to be the missing piece in the help that I needed on my healing journey. The sessions themselves are so relaxing, peaceful and lovely but it is the changes that I have experienced since starting these sessions that have really helped me. My pain is greatly reduced and I am able to feel more present and peaceful in my daily life. Francesca is always there for you. She always gets back right away and I feel that she is always reaching out energetically to help her clients even when she's not with them. Her holistic and whole body/life approach has positively affected many aspects of my life and for my family as well. I highly recommend these sessions.
★★★★★

How on earth do we sum up the experience of having Francesca officiate our wedding. It's not possible, but here we go.Francesca spent time with us beforehand to make sure she had every tiny detail in place to pull off a unique, personal, and memorable ceremony. She captured "us" as individuals and as a whole. She was there to support us in any way we needed, right through to the exchanging of the vows.It was an intimate ceremony that brought both sides of our families together. When our guests yelled "we do", our hearts were full. We laughed, we cried….all three of us.We are forever grateful.
★★★★★

We booked in such short notice, but Francesca made sure to get to know us well so that the elopement was sweet and personalized. She suggested good places on where to do it as everything was last minute and we really appreciated all her efforts. I would recommend her as she made our small intimate ceremony something that we will always remember for the rest of our lives.
★★★★★

Francesca is amazing! Her positive energy throughout this session was so refreshing. She guided me into deep relaxation. As time passed I felt lighter & freer. A must do session if you need to awaken your soul & revitalize your mind with positive energy. It is very hard to describe the feeling, but it's like a heaviness was literally lifted off me. Thank you sweet Francesca. And let's not forge Zoya, she sure warmed me up too!