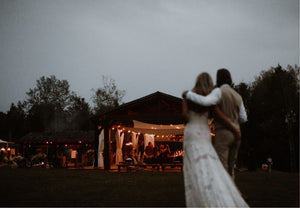 A playful & heart-felt wedding ceremony starts here.
"Celestial Ceremonies are about creating an authentic and fluid experience where the profound connection and divine love that you and your partner share is enhanced and expressed at your ceremony."
━ Francesca.
UNIQUE WEDDING CEREMONIES
Personalized & Hand-crafted
Each couple is unique and deserves to express their love in a way that is in line with who they are. Francesca designs personalized and hand-crafted wedding ceremonies that match your vision, values and personality. She achieves this by being incredibly intuitive, friendly and flexible, and by making sure there is intention and value in every word spoken within the ceremony. 
Excellent Storytelling
An eloquent speaker, Francesca gets to know you well as a couple to recreate your love story accurately and to deliver it on your wedding day in a way that is engaging and touching, capturing your personality and the expressions of love you are comfortable with. From fun anecdotes to emotional experiences, from playful to romantic words, Francesca is an expert in moving the audience through a range of heartfelt emotions.
Creative Solutions
Other than her own words, Francesca can help you create your wedding vows and has an eye for suggesting significant additions to your wedding script, such as welcoming family members, friends and pets into the ceremony, exploring different ceremonial traditions or honouring someone who cannot attend the ceremony. 
DIVERSITY & INCLUSION
All Expressions of Love
Francesca designs wedding ceremonies for all who feel called to receive her guidance. She is very easy going and willing to adapt and customize the needs of individuals from all religions, sexual orientations and cultural backgrounds. For over 30 years, Francesca has travelled the world and worked as a light worker offering guidance to a diverse variety of groups and individuals.
Weddings With Woof
Incorporating pups in the ceremony is one of Francesca's specialties. Her love and understanding of dogs comes from the special bond she has with the furry love of her life, Zoya! She believes that the deep connection you have with your dog adds tremendous joy to your wedding day. Watching your fur-babies happily bound down the aisle will undoubtedly warm our hearts! Even if your pet cannot attend, Francesca has a fabulous way of intergrating your pup in the ceremony.
Certified Clergy
Francesca Bonta is a Legal Wedding Officiant. She is certified as a Clergy with CIMM (Canadian International Metaphysical Ministry). Francesca can perform ceremonies and paperwork for weddings, elopements, vow renewals, and other spiritual ceremonies in any venue.  She primarily serves downtown Toronto to Northumberland County, ON.
A Celestial Ceremony Experience
A True Gift - Katie & Renan Share from their Hearts
"As we reflect on our wedding day, one truth remains undeniable – Francesca's impact on our celebration was profound and everlasting. Her presence added an irreplaceable dimension of love, joy, and meaning to our union. From start to finish, she demonstrated not only her skill as a wedding celebrant but also her genuine passion for creating unforgettable moments.
From the moment we connected with her, her genuine warmth and infectious joy made us feel like old friends. Francesca's exceptional organizational skills and unwavering professionalism further solidified our trust in her abilities.
Francesca's words were like poetry. Her ability to craft and deliver a ceremony that resonated with us on such a profound level was incredible. Her heartfelt words weren't just spoken; they were felt by every soul present, creating an atmosphere of love and connection that will forever remain etched in our memories.
One of the most heartwarming aspects of our experience with Francesca was her collaboration with Ren's stepfather. Being new to the role of guiding the ceremony, he needed guidance and support. Francesca stepped in with her innate grace and patience, nurturing his confidence and ensuring that he flawlessly contributed to our special day. Her dedication to making everyone feel comfortable and valued is a testament to her character.
Francesca's enthusiasm for incorporating our best dog Apollo, as the ring bearer was so wonderful. The sight of Apollo trotting down the aisle with the rings was so moving. Meeting Francesca's own doggie, Zoya was a delight! It was a charming reminder of the special bond that humans share with their four-legged friends.
Francesca's warmth, organization, and remarkable ability to evoke emotions through words make her an extraordinary wedding celebrant.

Our hearts are overflowing with gratitude for the role she played in making our day so incredibly special. The memories she helped us create will forever be cherished, and we can confidently say that anyone who has the privilege of working with her is truly blessed."
Request a Wedding Date
Please be sure to include the date, time & location.
Out of curiosity, how did you hear about us?