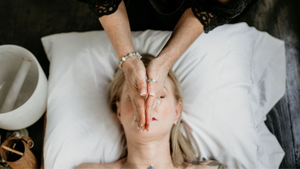 immense gratitude for signing up for my signature healing session
Here For You
I feel honoured to be entrusted to support you on your journey to overall wellness.
As sometimes the initial visit can be a bit of a wait or something out of your comfort zone, I thought you might enjoy this message and these gifts.
There are many reviews showcasing an experience with my services, however I feel it might be nice to share a bit with you here today.
There is nothing you need to do specifically to prepare for a session and there really is no particular reason why one would seek out my support. I believe that when the calling is there, we connect and share. 
What to Expect
Each story is unique, thus every person is supported how they need best. I come to this practice with intuitive guidance & a vast amount of knowledge and experience. An eclectic mix of modalities is used in session and the advice I share with you following an experience for next steps is practical, effective and efficient. 
Everyone leaves their session feeling lighter, brighter, empowered and clearer about their path to long lasting balance in their life. In some cases a series of sessions is advised and in other circumstances a single visit is enough to realign the body for some time to come. 
My practice works well as a standalone approach to alignment and also works beautifully in tandem with traditional therapy, allopathic medical advice and other forms of alternative medicine such as TCM, naturopathy or any hands on techniques.
More Ways to Connect
On the Blog portion of my website I have created Meditations, Recipes, Podcasts & Articles that have been carefully curated to provide offerings that support mind, body and soul.
I have also recently launched my Chakra Alignment Course, which is an online, self-directed course, with a virtual live experience every 6-weeks if you desire to attend.
In the event that there is an urgent need to connect, feel free to reach out to me personally, when possible, I shift things in my schedule to tend to more pressing matters. Sometimes it is just a quick text or a few minute phone call that can sufficiently assist you. Also, I can send energy immediately if you simply ask for it or think of me (I know this may sound odd at first, but once you experience it, it becomes easier to grasp).
Gentle, Safe & Sacred
In closing, I feel it is imperative that I share that my approach is in a gentle, safe & sacred manner. I mostly certainly only offer support when asked and your healing journey is dictated by the pace you feel comfortable with. My mission is to "empower you to navigate life's adversities with more ease and grace, allowing love, light and joy to flow through you".  Thus with each session you leave filled with a little more love and light. We learn how to enjoy more moments of each day!
Bonus, Zoya is a part of your healing session. She takes the idea of pet therapy to a whole new level! Her gentle, adorable and soothing presence adds light to our world. I often wonder if people come mostly for me or for Zoya, but truthfully, I say we are the perfect team. 
Looking forward to meeting you for your first session my friend. Kindly ensure that you have completed the WAIVER prior to our first session.